I have just spend the better part of a day trying to do something seemingly very simple - to restore a System Image I made of my Windows 8.1 system. In the end I finally managed to get the system restored, but it was not without more pain than I can bare at this advanced stage of my life.
A couple of things complicate the restore, so let me give a brief history of what led up to this.
I built a system based on a modern Asus Z97M-Plus motherboard (UEFI), with an Adaptec RAID 6405 card with two 1TB WD Caviar Black SATA drives in RAID1.
Windows 8.1 Pro was installed and configured (this was installed under UEFI mode).
The RAID card behaved badly, so I had to remove it, and try a single 1TB drive connected to the motherboard's SATA port. It is from this configuration that I made a System Image. Take note that I did not reinstall the OS - the disk worked as is.
I then played with onboard RAID and reinstalled the OS.
At this point I wanted to restore the backup I made to a single 1TB disk connected to the motherboard's SATA port.
I kept on getting the error: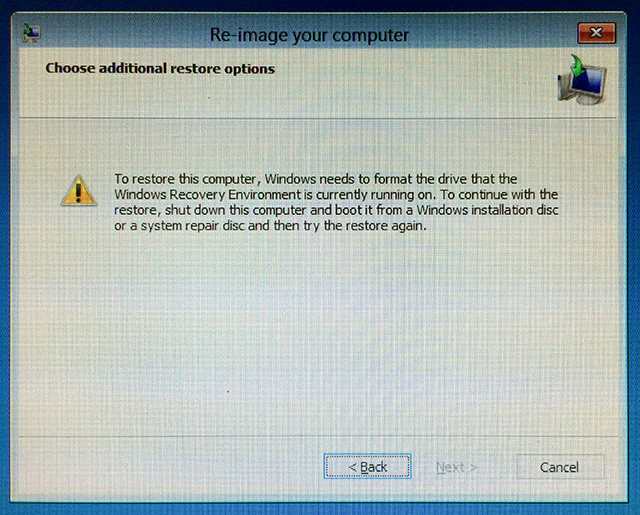 To restore this computer, Windows needs to format the drive that the Windows Recovery Environment is currently running on. To continue with the restore, shut down this computer and boot it from a Windows installation disc or a system repair disc and then try the restore again.

This error seemed misleading as I booted from the USB memory stick which contains the Windows 8.1 install image I used to installed the system with in the first place. Initially I spent a lot of time looking at the target disk:
I cleaned the GPT partition table and made it MBR
I enabled the partition's boot flag
I changed the boot order in the BIOS so that the hard drive is first
I started the Windows 8.1 install process and deleted / formatted the hard drive so that the correct system partition table is created.
I tried toggling UEFI in BIOS
I made 100% sure that the system booted from the USB drive and not the hard drive - no OS was even installed.
So in the end what worked was very simple...
Do not use a USB memory stick to load the recovery environment - use a read only optical disk via a DVD-ROM/RW drive...

Once I booted Windows 8.1 from a DVD-ROM drive, chose Repair and then Advanced then System Image restore, the process worked. I did run into two issues:
It gave me an error about not being able to restore an EFI image when the system is set to BIOS as the architecture needs to be the same. I fixed this by rebooting the system and choosing (UEFI) DVD-ROM from the boot menu as opposed to just DVD-ROM.
At the end of the restore I encountered an error which seemed benign as the system now boots and functions fine: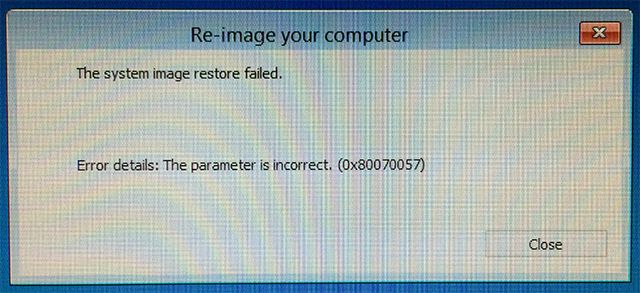 The system image restore failed.  
Error details: The parameter is incorrect. (0x80070057)